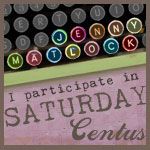 Welcome to Saturday Centus, the brainchild of Jenny Matlock of Off On My Tangent. Each week, she provides a prompt, either a picture or series of words, with which we are challenged to express ourselves in response. This week, our prompt is "Dear John" and my story follows with the prompt in bold.
Dear John,
I just wanted to thank you for all you do...
You always have my back
My butt is always covered
Your strength sees me through the worst days and nights
You never judge
Even when I neglect you, I can always count on you being there for me
I can't imagine my life without you
Throughout the years, you have grown and redefined yourself, and my life gets better as you do
I'm so lucky to have you...I think I love you...thank you for being you
Please click on the Saturday Centus logo above to poop...I mean pop...over to Jenny's and read some submissions of my fellow students! Thanks for stopping by today. Have a great weekend!