Xena is a fictional character from Robert Tapert's
Xena: Warrior Princess
franchise. She first appeared in the 1995–1999 television series Hercules: The Legendary Journeys, before going on to appear in
Xena: Warrior Princess
TV show and subsequent comic book of the same name. Xena was played by New Zealand actress Lucy Lawless who commonly wore a tight leather skirted outfit with silver accents.
Xena is the protagonist of the story, and the series depicts her quest to seek redemption for her past sins as a ruthless warlord by using her formidable fighting skills to help people. Xena was raised as the daughter of Cyrene and Atrius in Amphipolis. She has a brother who is dead; she visits his grave to speak with him often. In
Hercules
, during her two first episodes, Xena was an outlaw, but in the third (and last), she joins Hercules to defeat despicable warlords. Aware that the character of Xena had been very successful among the public, the producers of the series decided to create a spin-off series based on her adventures.
The original choice to play Xena was the British actress Vanessa Angel, but she fell ill and was unable to make it to the set. The role was also offered to four other actresses. Ultimately the role was given to Lawless as she was already a resident of New Zealand. Lawless had several problems playing the character due to the violent scenes, getting cut by swords and being hit in the head, and also in 1996 while rehearsing a skit for "The Tonight Show with Jay Leno", she fractured her pelvis when she was thrown clear from her horse. As a result, several episodes of Season 2 had to be edited to accommodate her recovery, and some of them were changed so Lawless could have a very slight appearance, and the crew created some brand new episodes.
Let me introduce you to my Xena, and her brother, Luke Skywalker, and brother, Kenny from South Park, and sister, Black Kitty!
Brought to you by Jenny Matlock's Alphabe-Thursday. Click on the logo below and see what other fascinating "X" stories there are for your entertainment!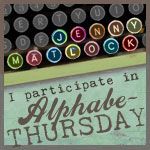 Information obtained from Wikipedia.