Oh Jenny, you little stinker, you! This week's challenge is to write lyrics to the "Twinkle, Twinkle Little Star" song using up to 32 words which include "
In the Autumn.
" Yo...yo...here we go!
In the Autumn we will play
Tossing leaves most every day
Let's get dressed for trick or treat
We'll be scary and so sweet
I can't wait for Halloween
We sure make an awesome team!

I know it's corny, but consider the song....(it's one of my favorite songs to sing to little ones)! I went over by three words - so hate me! Please click on Jenny's logo below and be entertained by some exquisite lyrical talents!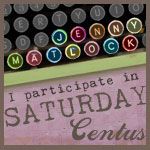 This post is dedicated to a wonderful relationship once had by two little boys and their mothers.