If you're an ELLEN fan, you know exactly who Sophia Grace and Rosie are and what they do. If you're not an ELLEN fan, well then you are missing out on some great entertainment! I'll fill you in with a few tidbits.
Sophia Grace Brownlee (8) and her cousin, Rosie McClelland (5) began their road to fame by performing in a YouTube video of Nicki Minaj's "Super Bass". They are both from the UK with Sophia Grace belting (and I do mean belting) out current songs by other artists. Their personalities and accents bring the biggest smiles to the faces of their viewers. Of course, their cuteness has gone viral and they have been guests on "The Ellen Show" several times.
Their first appearance on, "The Ellen DeGeneres Show," became a HUGE online hit as they sang "Super Bass". Soon after, they appeared on Ellen's show for a second time!! This time, they sang Adelle's, "Rolling In the Deep." The girls also appeared on the red carpet at the American Music Awards and enjoyed interviewing some of their favorite recording artists including, Rihanna, Katy Perry, Jennifer Lopez, and many more.
The girls have their own Facebook page, where you can watch interviews, and performances. Also, "The Ellen Show" has several performances,interviews and videos that will melt your heart!
On a recent "Ellen" show, the girls premiered their own very special segment, "Tea Time with Sophia Grace and Rosie." Their first guest was Taylor Swift. They loved getting to know Taylor, and the segment is priceless!
Sophia Grace & Rosie have a bright future ahead of them. Of course, they will grow up and probably become beautiful young ladies with voices that rival some of the best! But even if their journey takes a different path, they will always have this special time to look back on!
The letter "S" is brought to you by Jenny Matlock's, Alphabe-Thursday. Please click on the logo below and you will enjoy reading some very interesting "S" stories.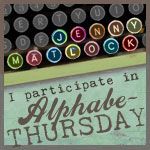 Thanks for stopping by!