"I'm living the dream, man,"
she thought to herself as she sat down to begin her day's work. It's not enough to just smile and be cordial to everyone coming through the office. I have to actually produce something? Well, bring it on! I love challenges! I love pressure! I love living every moment as though I'm going to stroke with my next heartbeat!
Then, I come home to the adult children who languish about. The same children whose tuition I now pay with my "dream" job.
My babies are my world, and I wouldn't have it any other way!
This dream post is brought to you by Jenny, from Off On My Tangent! Each Saturday we are given a prompt with which we are to create a masterpiece of so many words (of Jenny's choice - this week it is 100) and share it with the world. The prompt this week is the first sentence of my post (that's why it's in bold). Thanks for stopping by today. Please click on Jenny's logo below, and enjoy the writings of some buddies of mine.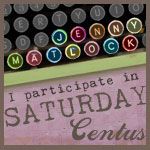 Have a great weekend!