Welcome to last Saturday's Centus, which I am finally posting. Jenny from
Off On My Tangent
sponsors a great writing challenge every Saturday morning. This week's challenge is to write something that is 60 words or less using the prompt
Dear John
.
Belatedly, here is my offering with the prompt in bold. If you have trouble reading this, ask a teenager to interpret, as I have written my story in text message format.
Me: sup, dude?
Him: nothin, just chillin at home.
Me: want to hang out?
Him: can't.
Me: y not?
Him: sort of want to be alone.
Me: kk. how bout tomrow?
Him: idk if I can.
Me: hey, is somethin goin on here?
Him: no, yeah, kinda.
Me: like what?
Him: we need to take a break. It's me, not u. I just don't want to be with anyone right now.
Me: r u textin me a
Dear John
ltr?
Him: yeah, I guess so.
Oops! I sort of went over the word limit. If you don't count the "me" and "him", I'm only one word over. Anyway, please stop over at Jenny's by clicking above or on the logo below.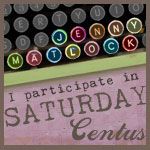 Hope u r havin a gr8 week!