Welcome to Saturday Centus, a weekly writing challenge hosted by the glorious Jenny Matlock, Off On My Tangent. Normally, we are given a topic to write about, using no more than 100 words (plus the words of the topic). Today, our challenge has been cut in half - we must write using only 25 words, plus the topic "the end," which I have typed in bold. Thanks for making my day, Jenny!
I fear,
the end
is near
I know it's near, I can feel it.
I sit on it every day
And feel it hang over the chair.
Please know that this was written on only one cup of coffee! You should see what I can do after finishing the whole pot!
Please click on Jenny's logo below and see how some of my friends have stood up to this challenge!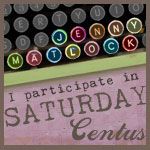 Have a great weekend!