Before I die I want to...
Cleanse my soul
of all its secrets,
And fill it back up with pure love
Today's
Saturday Centus
is brought to you by
Jenny Matlock, Off On My Tangent
, where her unique teaching methods sometimes boggle the brain. This week, we are allowed only 15 words, plus the prompt, to make known our life plans to accomplish before we head out from here. Realistically, I need a butt load more than 15 words, but I'm a good student and try to always follow directions. Please stop by
Jenny's
to see the thoughts of my classmates on this topic. Just click on the logo below!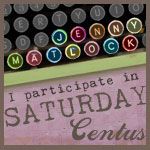 Have a wonderful weekend!