Welcome to Alphabe-Thursday, sponsored by Jenny Matlock! This week's letter is "Y" (we are almost through the alphabet...I can't wait until Halloween Break!) Since we are fighting for a place in the MLB Playoffs, I thought I would share one of our St. Louis Cardinals with you! Say hello to
Yadier Molina
, Catcher for the Cards. He's hot, sassy and one heck of a ballplayer! We are currently tied with the Philadelphia Phillies, two games apiece. If we win tomorrow night (Friday) we get to move on to the next challenger. If not, well then we will still cheer on our guys when they get home!
Born and raised in Puerto Rico, Yadi joined the Cardinals in 2004. He has a home in Puerto Rico and another in Illinois during the baseball season. He is married and has two children. Yadi has two brothers, who also are catchers and play professional baseball.
He joined the Cards in 2004 and was backup catcher to Mike Matheny, who later joined the San Francisco Giants. That paved the way for Yadi to become starting catcher for the Cardinals. In addition to his success as a catcher, Molina proved to be a consistent contact hitter. During the off-season, Yadi played for a Puerto Rican team in the first World Baseball Classic.
Prior to the 2006 season, Molina changed his number from 41 to 4. In 2006, in Game 7 of the NLCS, Molina hit a two-run home run in the top of the ninth inning off Aaron Heilman of the New York Mets, giving the Cardinals a 3-1 lead and helping them secure a trip to the 2006 World Series, where they defeated the Detroit Tigers in five games.
On July 5, 2009, Molina was selected to represent St. Louis in the 2009 Major League Baseball All Star Game as the NL starting catcher. He also won his second Gold Glove award later that year. On April 5, 2010, Molina hit a grand slam home run; he is only the third Cardinals player to hit a grand slam on Opening Day.
On November 1, 2010, he won his fourth consecutive Fielding Bible Award as the sole catcher, becoming the first player at any position to win the award unanimously with a perfect score of 100. Days later, he won his third consecutive Gold Glove Award.
On August 2, 2011, he was ejected during a game against the Brewers for arguing a called strike, after which he appeared to spit at the umpire. Molina said his face was sweaty and he didn't intentionally spit. Molina served a five-game suspension from MLB for "making contact with umpire Rob Drake multiple times and spraying him with spittle twice while arguing." I believe Yadi.
Thanks for stopping by to read my "Y" assignment. Please grand slam your way over to Jenny's by clicking on the logo below and see what my fellow classmates have offered!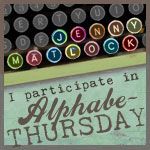 Statistical and personal information provided by Wikipedia.