It's Saturday....and that means Saturday Centus from Jenny Matlock, Off On My Tangent! Who is Jenny, you ask? Why, Jenny is the Head Mistress for the School of amateur (and professional) writers! Each week, she toys with our emotions by challenging us to write from a prompt, a picture, or any other whim that she may have at 3:00am! This week our prompt is a picture of black...which she lovingly calls "Study in Black." The kicker is that we can only use 25 words.
Nothingness abounds
I am cold and so afraid
Light, where have you gone?

Moving carefully
Step by step, oh so slowly
Light, I see you…aaaaggghhhhhhh!!
It could happen! The klutz that I am, it probably will happen....maybe when I go trick or treating at Jenny's house wearing nothing but black.
Thank you for stopping by today. Please go "step by step" over to Jenny Matlock's House of Horrors to read some really juicy stuff from my ghoulfriends. Just click on the logo below!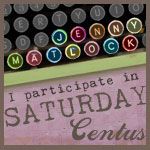 Have a wonderful weekend, and, if you celebrate it, a Happy Halloween!