For those who might not know, I work at a middle school as a secretary in the Guidance Office. One of the 3,000 jobs that I perform each day is to collect attendance slips from the Physical Education Department. Almost all of the teachers in the school take attendance by computer, but the PE Teachers are either in the gym, on the track, or out on the soccer fields, and they are not allowed to use their sophisticated cell phones to take roll. There is a small, black mailbox in the gym where the attendance slips are deposited at the beginning of each class, once roll has been taken. My job is to pick up those slips while I am out on one of my "delivery" runs, and return them to the office. It takes me just about ten seconds from opening the gym door and grabbing the slips, to closing the gym door.
I love to see the kiddos decked out in their gym clothes, in row formations, while they warm up their muscles in preparation of whatever fun (or not fun) activity the teachers have planned. It has been my experience that just about all PE teachers have either a really great sense of humor, or a really sick one. The PE teachers at my school are hilarious, with constant banter and playfulness. They always crack me up with their one-liners!
For years and years, our PE uniforms have been the colors of blue, gray and gold, with the school name on the shirts and shorts. Our beloved PE teachers decided they would impart some of their humor on new PE uniforms. Two of the three grades have their own color of t-shirts (neon green and neon orange). The backs of the t-shirts read: "CMS + PE = Paradise". They answer their Nextel phones "Welcome to Paradise!" which still catches me off-guard.
I just can't stop smiling when I see the shirts as I am reminded how fun it must be every day in gym class, knowing it is a little slice of paradise…for someone! My ten seconds of paradise are the best seconds of my day!
The Letter "T" is brought to you by Jenny Matlock, Off on Her Tangent with this week's Alphabe-Thursday writing assignment. Please click on the logo below to check out the assignments from my fellow classmates!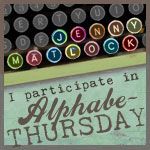 Thanks for stopping by! Have a great weekend!