This past weekend, I flew (on an airplane, not my broom) to Ontario, California. I chose Ontario, because it's the closest airport to Corona. Why Corona? Well, I heard there was a huge party happening in Corona, and I really wanted to be a part of it.
The party was at Pat & Joan's house, although Pat was not in attendance. You see, Pat left this world in December of last year. His new adventure took him to a place where the waves are narly, the dudes are totally awesome and the surf is up 24/7! Knowing that he was doing what he loved made the toasts with Budweisers much more fun and meaningful.
There were hugs, kisses, tears and recognition of long time friends; and that was just family members! The alcohol flowed freely, the beans, rice and quesadillas never ran out, and to the amazement of moi, nobody got sick...at least not in my direction! But the best part of the whole day was living Pat's life through pictures that had been lovingly attached to poster boards.
Pat touched the hearts of everyone he met. He made people feel like they were his best friends. There were neighbors old and new, high school buds, co-workers, and grown men and women who spent the best days of their youth playing Hide and Seek and riding bikes with him. Stories of embarrassment, encouragement and events that were kept secret until now, could be heard coming from every room in the house, as well as the Oingo Boingo Lounge itself. The "Lounge" was Pat's special place to relax, watch TV, play card games and entertain friends...and it was located in the garage!
During the height of the party, we were greeted with rainshowers. The showers increased and were joined by thunder and lightning. We all couldn't believe the unusual weather for February, especially the lightning. It was the consensus of all that Pat had joined the party and was thanking everyone for coming.
I spent the following day with Joan, her friend Carly, and Joan's children. We bathed in the predictable sunshine and blue skies that follow Southern California's rainstorms. I think my brother, Pat, was there with us. The day was perfection in it the purest form.
It was a great trip! I wrote this at the suggestion of Mama's Losin'It via her Writer's Workshop blog. Click
here
or on the logo below to visit Mama Kat, and check out her stories, and some of the other stories that were written by her fans!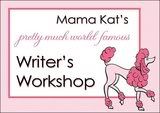 Do you have a favorite trip?