I was clicking around today and ended up at Supah Mommy. She asked us to write a story about a Tooth Fairy experience. You know how fond of fairies (tooth, godmother, garden, laundry, Bad Spells, etc.) I am! I just couldn't resist! Please stop over and say hello at
Supah Mommy
.
I have forgotten my share of Tooth Fairy duties. If there is anyone out there who has never forgotten….well… I really don't want to know.
One time, when I did remember, it was the first "switcheroo" job. At the time, Rock was about 10 years old. He was a half/believer at this point, but I assured him that there was, in fact, a Tooth Fairy who brought coins for teeth. Of course, moms know NOTHING. He was out to prove that he knew better.
That night, Rock put his tooth in a place other than the "designated" place and the Tooth Fairy could not find it. The next morning, Rock showed me his tooth. He was so sure that there was no Tooth Fairy, because she would have found the tooth no matter where it was. I explained to him that she visits a gazillion kids every night to pick up teeth. She always looks in the same place where she picked up the last tooth. She doesn't have time to hunt around the room looking for the tooth, and possibly waking up sleeping children. I told him that she probably figured that he forgot to put it in the same place as last time.
I suggested he try it again, but this time he should put it in the little box on the nightstand. He did so, very reluctantly. The next morning, he came downstairs excited, but confused, at the same time. The Tooth Fairy had left a coin for his tooth, but she also left a bill for the wasted trip out the night before.
The invoice was very professional. It had the Tooth Fairy's name at the top, with her address on Bicuspid Lane. The words "SAMPLE BILL" were stamped on the invoice. The bill, itself, did not have an amount due, but there was a section for notes which read:
Because of the deception you engaged in two nights ago, this bill is being sent to you for my trip out to your house and no tooth in the tooth box. It has come to my attention that the tooth was in the room, but was hidden somewhere other than the box, the dresser or under the pillow. If every child just put the tooth in any old place, I would never be able to visit everyone who lost a tooth. There is no money due at this time, however, should you repeat this behavior, you will be required to compensate me for my time. Thank you, the Tooth Fairy.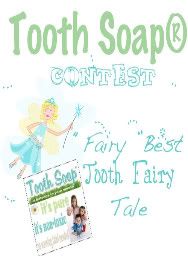 Please check out Supah's blog. She has something for everyone!
Have a great Wednesday!