As in Bill & Ted's Excellent Adventure. Everyone remembers Keanu (who could forget him then…and who can forget him now?) but who was the other guy? Alex Winter played the part of Bill.
As in "excellent choice" a term used by many waiters, wine stewards, and BMW car sales people.
As in "excellent" when Mr. Burns from the Simpson's TV show speaks. His version of the word always sounds so devious!
As in "Downright Excellent" a British organization that provides educational therapies and quality play experiences for children with Downs Syndrome and their siblings, plus education and support for parents.
As in "excellent" from the Urban Dictionary which states: A word similar to cool or awesome. It is usually used to show excitement or enthusiasm towards something.
As in "Excellent Gentlemen" a Soul-Groove Dance Party Music group whose next performance is this Friday night at Jimmy Maks in Portland, Oregon. Check them out at http://excellentgentlemen.com/ and you can listen to some of their smooth tunes like "Freaky" where the only lyrics are "I want to freak wich you girl."
The Letter "X" is brought to you by Jenny Matlock Off On My Tangent's, Alphabe-Thursday. Please click on her logo below and see what other X-reports have been presented!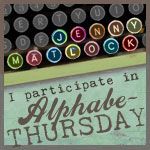 Thanks for the visit! Enjoy the rest of your week!