My best birthday party flavor was girlie-girl flavor! We had a dress-up box in the basement. We all found something to wear. We had girlie teens to do our makeup and nails. We glued silk flowers to big, floppy hats and added some Chiffon. When we were all girlied up, we had a girlie fashion show. Then it was time for cake and ice cream! We sat around the dining table, eating our treats, and laughing our girlie-girl heads off! It was a lovely day and everyone went home with a big girlie smile on their face!
This "flavorful" post is brought to you by Jenny Matlock at Off On My Tangent. Please stop by and grab some short reads (we can only use 100 words) of some of my friends who have great flavor! Just click on the logo below, sit back and enjoy!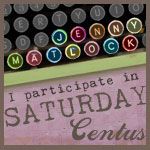 Thanks for stoppying by!