Any mom or dad of an Eagle Scout knows exactly what their son(s) went through to earn this highest honor of Boy Scouts. For many of us, it was a lesson in "just under the wire" or "how to keep one's sanity while hours away from a deadline!"
I have the privilege of having two sons who were Boy Scouts, and who both earned their Eagle Scout Award just hours before their 18th birthday. That is the deadline for all sign offs for the project the boys complete as the last part of the Award. My two princes turned my gray hair white by leaving so much until the last minute.
But that is all water under the bridge now. The Eagle Scout Award can open so many doors for young men. They can enter the military, or Police Academy with one year already completed, merely by earning this award. When college admission representatives or employers see the award listed on applications, it indicates to them that the applicant worked through the scouting program until it was completed; just like a job project, or college curriculum requires one to complete. Yes, I had to kick their butts a fair amount of the time, but in the end, it was their hard work and tenacity for which they were rewarded.
I can honestly recommend both the Boy Scouts of America organization, as well as the Girls Scouts of America organization for any parent or child with an interest in developing life skills, broadening horizons, and giving service to their community. These organizations offer opportunities and experiences that may not be available to some in their everyday lives.
This post is in response to Jenny Matlock's Alphabet Thursday meme. Please stop by this week's post to read about others who are inspired by The Letter "E". Just click on the logo below and you will be transported to Jenny's post.
Thanks for spending a few minutes with me today!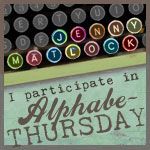 P.S. My Scout is the one in the middle!