No mas gorda, solomente gordita! No more fat, just a little bit chubby.* I'm changing...I'm getting a little smaller, and for the first time (in a really, really long time) I have no clothes in the closet that fit me (without the assistance of safety pins, clothes pins and/or duct tape!) What shall I do? Anybody up for an "LET'S GO SHOPPING!" adventure?
I have finally been able to change my intake of eye-popping, spectacular tasting and nutritious foods to nutritious foods that look and taste good, for which I will be eternally grateful. My "eye-popping" attraction is my addiction to sugar. Sugar makes everything look and taste amazing....it just doesn't look amazing on me. What do you think about these cupcakes I found today?
Kicking the sugar addiction has always been tough for me, but with the right support from friends and family, I have been clean and sober for five months now. It will always be there, that little voice telling me "just try it"! I just talk back (to myself, of course) to that little voice and say, "no thanks...I don't do that anymore!" Also, I don't have to always be thinking about where my next "sugar fix" will come, or, are there enough vanilla creme cookies to get me through the night. Don't laugh...I lived this!
The scale numbers don't matter, but what does matter is how terrific I feel! It's great to be nice to people because I want to be nice to them. Too bad that the 50 million employers to whom I've sent resumes don't know just how nice I am!
Thanks for stopping by today! This "N" post is offered for Jenny Matlock's "Alphabe-Thursday" series. Please click on the logo below to see other "N" stories by some very creative friends of Jenny!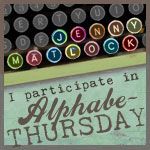 *To my Spanish speaking friends...please feel free to correct my grammar!