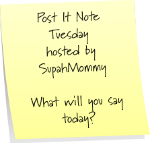 I've been wanting to join in the fun of Post It Note Tuesday for quite some time, but my techno-challenged brain just wouldn't let me. So, I offer you here my first set of notes with the theme of somewhere between sarcasm and venting.
If you are, like, totally bored with me, please stop on by
Supah Mommy
. She will have you laughing on the floor in no time!