"Z", the last letter of the alphabet! We made it!! Alphabe-Thursday, by Jenny Matlock, Off On My Tangent, is a clever weekly meme that I look forward to writing. I pondered over many "Z" words, but wanted to share my love for Zapatos (shoes). The "to-die-for red number above is "Bloom" at Bakers.
Mojo Moxi - Poppy (Bakers)
I can't wear most of these, but I do love them. There are a gazillion companies making the most fabulous shoes out there, but I chose two companies with which I am familiar; Bakers Shoes and KM2 Shoes to Live In (see my sidebar). Hope you enjoy!
Now remember, these shoes are NOT for wearing to the beach, or to a family picnic! "Nancy" - Bakers.
And for a special occasion, like sneaking around with your guy!
Jill - KM2 Shoes to Live In I'll bet they will make these in white for a wedding!
Brylee - Now this is more my style! This next one is too!
And so is this! I just might be able to wear this pair to work!
Here's a pretty Spring shoe. Treat yourself to a pair of these!
Wild Pair - Gerri
Please bunny hop over to Jenny's and see what other zanies are writing about! Just click on the logo below!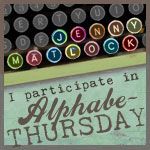 Have a great weekend, and remember to get plenty of zzzzzzzzzz!