I've been working on this story for a few weeks. It begins as a fact based comparison between the West Coast's In-N-Out Burger and the East Coast's Five Guys Burgers. I'm a Southern Cali girl, so you should know up front that this story will be a biased.
In 1948, the first In-N-Out Burger was founded by Harry and Esther Snyder in Baldwin Park, CA. Harry's idea of a drive-thru hamburger stand where customers could order through a two-way speaker box was quite unique. In that era, it was common to see carhops serving those who wanted to order food from their car. Harry's idea caught on and California's first drive-thru hamburger stand was born.
The Snyder's business philosophy was simple: "Give customers the freshest, highest quality foods you can buy and provide them with friendly service in a sparkling clean environment." These principles have worked so well over the years that they are still the company's fundamental philosophy.
The In-N-Out menu consists of three burger varieties: hamburger, cheeseburger, and "Double-Double" (double meat/double cheese). French fries and fountain drinks are available, as well as three flavors of milkshakes. The hamburgers come with lettuce, tomato, with or without onions (the customer is asked upon ordering, and may have them fresh or grilled), and a sauce, which is called "spread". There is no pressure to make a quick decision. Order one style of burger, fries and a drink. Personally, I always order a shake with my burger. It's like milk and cookies; how else would you have it?
There have been a few modifications in recent years. The original In-N-Out offered only drive-thru and walk up service. Most of the newer In-N-Out Burger locations provide indoor and outdoor seating. Aside from building improvements, though, In-N-Out has retained the basic traditions that have made it a favorite for 60 years. I love it because it's simple, quick, fresh and delicious! (And they toast their buns!)
Check out the similar interiors of the restaurants:
IN-N-OUT
FIVE GUYS
Five Guys is a quasi upscale fast casual restaurant chain that originated in Arlington, Virginia. The chain sells mainly hamburgers, hot dogs and french fries, and, in contrast to many other restaurants that have a similar menu in a similar market (such as Steak n Shake), Five Guys often serve beer and have a license for the consumption of beer on the premises.
Sell a really good, juicy burger on a fresh bun. Make perfect French fries. Don't cut corners. That's been the business plan since Jerry Murrell and his sons opened their first burger joint in 1986. When they began selling franchises in 2002, the family had just five stores in northern Virginia. Today, there are 570 stores across the U.S. and Canada, with 2009 sales of $483 million. Overseeing the opening of about four new restaurants a week, the Murrells are proof that flipping burgers doesn't have to be a dead-end job.
I only recently learned of Five Guys Burgers, and wanted to give them a try. St. Louis has yet to acquire an In-N-Out, however according to their website, it could be happening in the near future. (It took St. Louis seven years to get a Nordstrom store!) My first impression as I walked in was that it reminded me of In-N-Out without the drive-through. They make their burgers fresh and in front of you. What I didn't like was the menu and the way it was set up. There are just too many choices of items to add to the burger. I became stressed out because all I wanted was a cheeseburger with tomato and lettuce, no onion and no sauce. They have two sizes of fries, with the small size being too much to eat at one meal. AND, THEY DO NOT SERVE SHAKES!!!
Five Guys Facts
There are over 250,000 possible ways to order a burger at Five Guys. (stress)
We use only fresh ground beef. (great that it's fresh, but what about fat?)
There are no freezers in Five Guys locations, just coolers. Nothing is ever frozen.
We use only Peanut oil. (What if one has a peanut allergy?)
Our menu is trans-fat free. (that's nice)
Here is a visual that compares and contrasts the two restaurants.
You can decide....but if you ask me....hands down its IN-N-OUT!!
This post is in response to Jenny Matlock's Alphabet Thursday meme. Please stop by Jenny's post to read about others who are inspired by The Letter "I". Just click on the logo below and you will be transported to Jenny's Tangents...and post!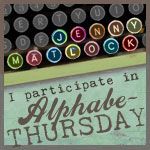 Thanks for spending a few minutes with me today!