Welcome to my contribution to
Saturday Centus
, sponsored by
Jenny Matlock - Off On My Tangent
. She posts several memes during the week with which we can play along. On Saturdays, she gives a prompt and challenges us to write a short story, 100 words or less, using the prompt as the topic. AFTER you read my entry, and, give me a thumbs up or thumbs down, please click on the logo below and go visit Jenny. There are others there, just like me, with short stories that are quick reads, and very entertaining!
The theme of this week's Centus is in bold lettering.
It seemed like yesterday that I watched Tommy dance in the Halloween parade. He was a great scarecrow and played the part well.
Who knew that a week later, he would be diagnosed with a rare blood disorder. We saw many doctors who performed all kinds of tests and still they were unable to offer a cure.
Tommy was getting weaker by the day. Family and friends arrived for support. We prayed as we laid our hands on him. I fell asleep next to him and awoke the next morning to a sweet voice whispering,
"Mommy, I'm hungry."
It was the 11th anniversary of
the happiest day of my life.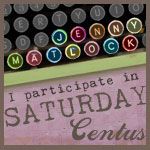 Thanks for stopping by. Have a wonderful weekend!