It's Thursday, and time for Jenny Matlock's Alphabe-Thursday! This week's letter is "O". Having watched the Globes the other night, I'm thinking about the upcoming Oscars. I thought it would be fun to research people or things that use the name Oscar. Enjoy!
I covet, I lust for and I wish I could just touch one....once!
Walter Mathau played Oscar in the original movie of "The Odd Couple" as well as the Broadway play.
Oscar Schindler, as many of you know, played an incredible humanitarian part during World War II.
Oscar from the TV series, "The Office."
Famous Fashion Designer for both men and women, Oscar de la Renta
Oscar Wilde, poet, writer, kinda hot but from a different era, and sensitive.
My favorite! Oscar the Grouch from the long running TV series, "Sesame Street!"
Please stop by Jenny Matlock - Off on My Tangent and see what the other students in the class have turned in! Just click on the logo below!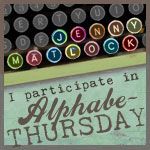 Have a great Thursday!