It's another day in paradise with new challenges all the time! Jenny Matlock from Saturday Centus has sucked us in for another week of difficult tasks. We are writers, with a lot to say. She wants us to say it in 25 words (it's usually 100), and I thought I wasn't going to succeed. But, I did it! The prompt for this week is
"the lottery ticket..."
Every week I buy one.
Our birthdays are the numbers.
I never win, but I always buy,
except for yesterday.
Guess what numbers won?
Please stop by Saturday Centus and enjoy reading some very short stories! Just click on the logo below!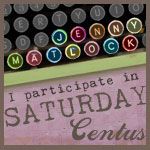 Thanks for stopping by today!