"I feel like an idiot" Otto complained. "This Fez-like hat is such a joke! They were supposed to remove all props at the end of the parade. I'm still wearing this stupid fake ice hat, and my arms and legs are still covered with the same, stupid fake ice! And, as if I couldn't be humiliated any more, some stupid paparazzi clicks away, and now I'm on the front of 'The Citrus Star', along with all the other stupid Rose Parade leftovers, and I fear that I will be remembered for this ridiculous look! Will somebody please just squeeze me?"
Jenny Matlock, threw us a zinger this week for Saturday Centus, and instead of writing 100 words or less in response to a written prompt, she wants us to write about a picture. Jenny, you are so strict sometimes!
Please click on the logo below and read some
very
creative stories about an ice covered orange!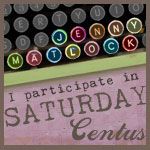 Thanks for stopping by!