It's Alphabe-Thursday once again and this week we are honoring the letter "T". Each week, our fearless leader/teacher, Jenny Matlock, calls class to order and instructs us to post something using a letter of the alphabet. I chose "T" for Tutus!
Growing up, I loved to dance. I still do...I just do it a little slower. I always fantasized about dancing in a professional dance company. As I got older, and started to think about what profession I would choose as an adult...someone... somewhere along the line...said that dancers don't make any money...therefore, I would not be able to live on a dancer's salary. I took a different road at that point, but I never, ever have lost my obsession with dance or Tutus!
I hope you enjoy some of these. I spent an hour in Tutu Wonderland trying to choose my favorites!
Well, if it isn't Queen Amidala, herself! From the movie "Black Swan" it's Natalie Portman.
Nothing says cute better than a baby in a Tutu - don'tcha think?
They call this one "Ancient Ballet." I think it looks like a "Tutu who vants to be alone!"
A colorful and well made Tutu can take you away to a very happy place!
"Do you like our (snort) little pink (snort, snort) Tutus?
A good Tutu doesn't always need to be "fluffy!"
Okay...who let these little pixies in here? Katya and Ed go "Tutu-wood!"
Thanks for the visit! Please stop over at "Alphabe-Thursday" by clicking on the logo below and you just might learn a new "T" word!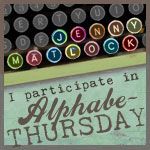 P.S. - I was late turning in my Letter "S" homework last week. If you have a minute, please check out my
"Sisters"
post!
Have a great day!